Automatic Dough Rounder YQ-600
Product Detail
Product Tags
The dough rounder will round the dough pieces after dividing, enables to handle soft and non standard dough for automatic operation. The rounder can be connected to a dough divider and to a first proofer.The cone has ridges and the aluminum tracks are adjustable. The rotating cone along with spiral aluminum tracks helps dough rounder to yield perfect round loaf. It can handle soft to non-standard dough by using automated operation. It can process 7600 loaves per hour and comes with a 400w electric motor that runs on 380 Volts of power supply.
The loaf weight range is from 20 to 300 grams.And the machine body is made from high-quality wear-resistant steel.There is Teflon coating both on the conical cone and tracks,which definitely no sticking to dough.The unique spiral tracks and exact assembling ensure the perfect connecting between tracks and conical roller. Besides,our dough rounding machine imitates manual rounding,so the roundness is perfect.And the traks position can be adjusted to produce dough ball in different sizes.Dough rounding machine can be used independently,and it can also be combined with dough dividing machine,intermediate proofer or shaping machine into a production line. 
● High Production Capacity & Quality, Modular System, Easy to Use.
● Designed to give a round shape to the dough while the dough is passing through the tracks surrounding the conical body.
● Working Weight Range: 20-300 grams.
●  Variable Speed Control
● Body is made of 304 quality stainless steel.
● On wheels.
● Compatible working with the dough processing lines.
● Year Warranty against defect of manufacturing and assembly.
| | |
| --- | --- |
| Model No. | YQ-600 |
| Power | 400w |
| Voltage/Frequency | 380v/220v-50Hz |
| Dough ball weight | 20g-300g |
| Max hydration | 65%-75% |
| Production capacity | 7600pcs/h |
| Meast: | 85x85X145cm |
| G.W/N.W: | 380/370kgs |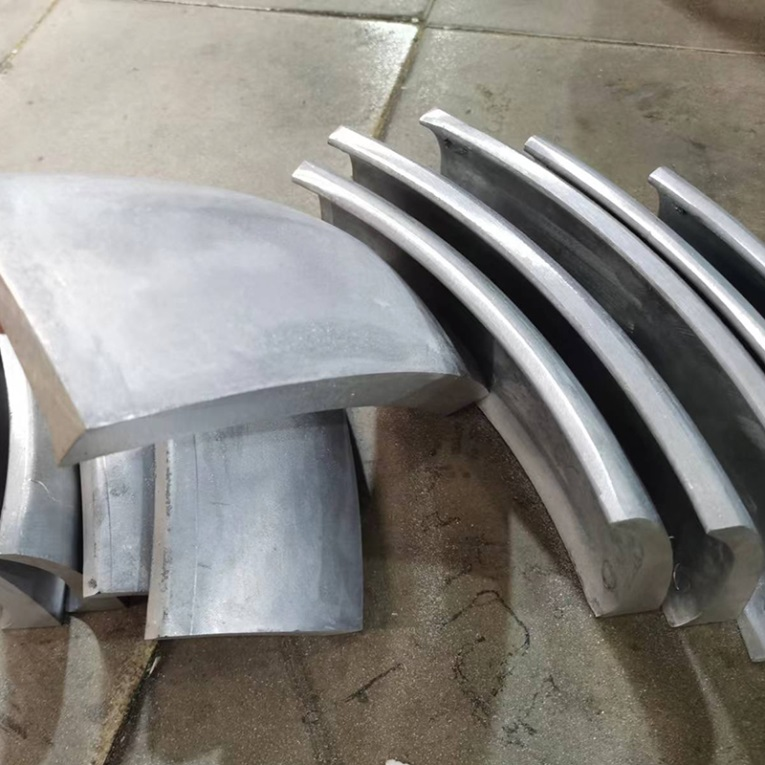 The aluminum tracks after cutting by mould.
Connect the tracks by screws,and grinding by hand carefully to match the conical cone perfectly.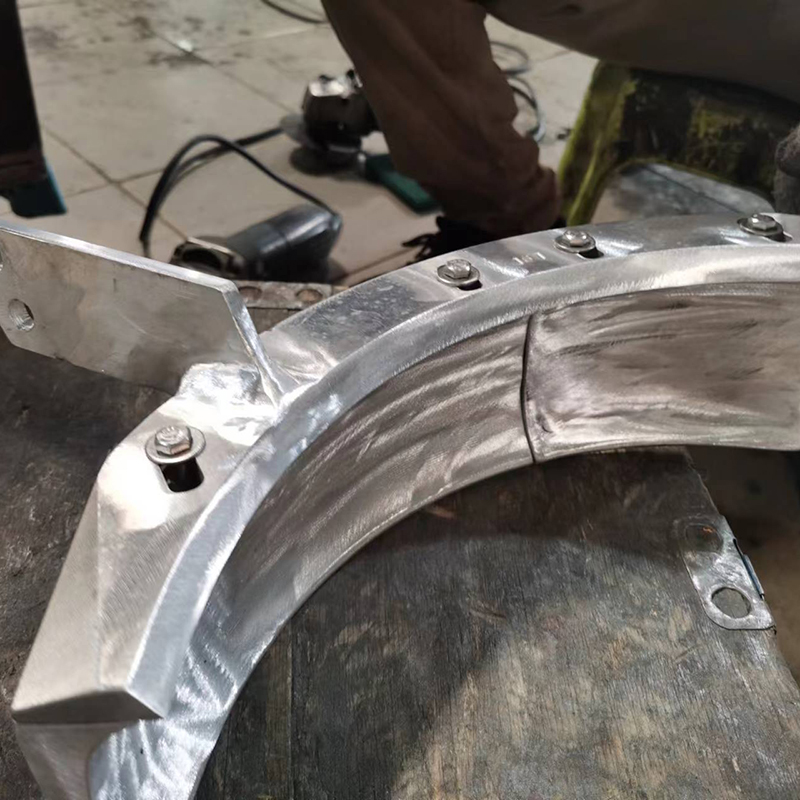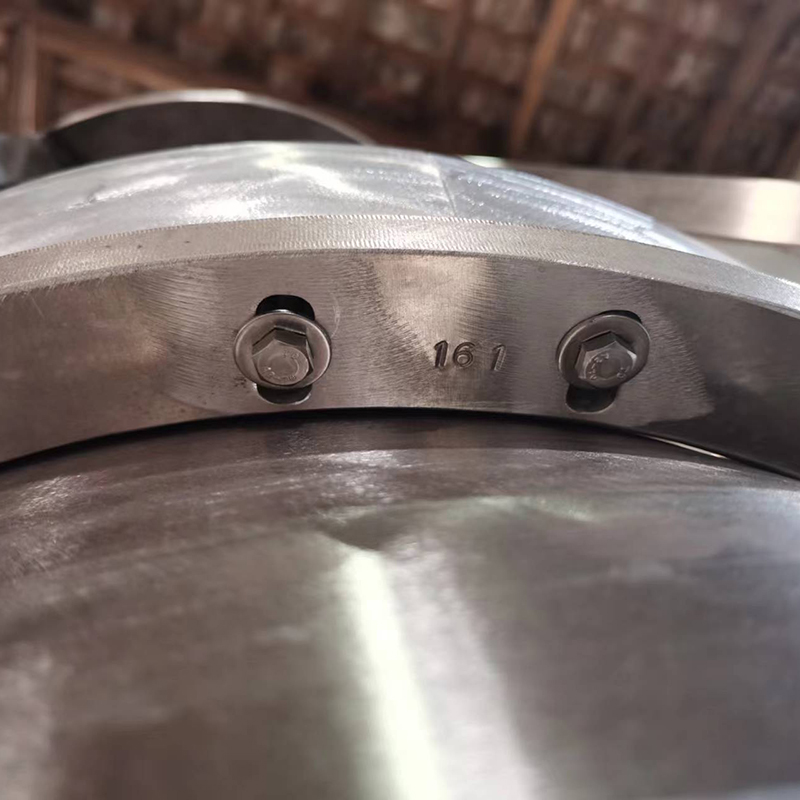 The tracking position can be adjustable by adjusting the screws on tracks.
The newest NANO ceramic coating,wear-resistant,no sticking.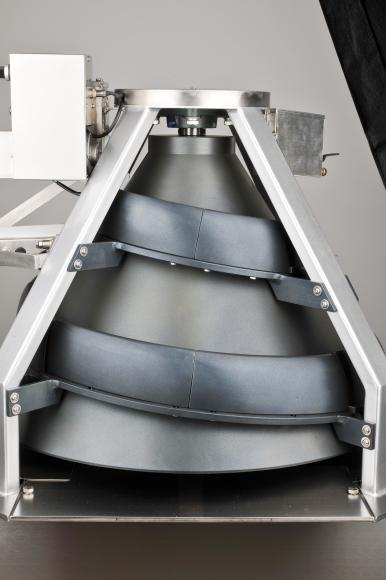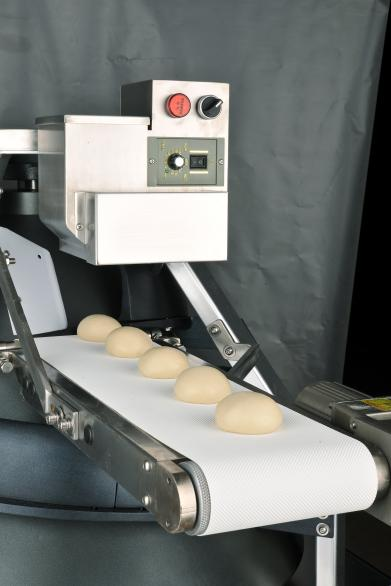 Automatic rounder,perfect connecting between rail and conical roller,which delivers smooth dough ball output by conveyer belt.
Imitate manual rounding,high efficiency.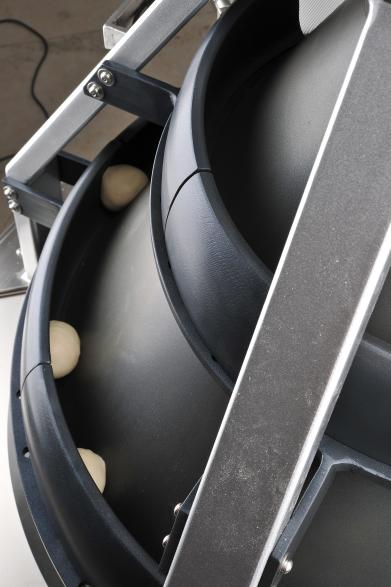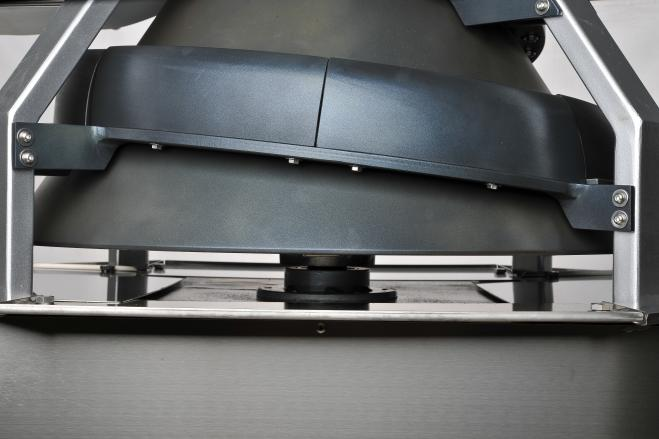 It can be adjusted to make dough balls in different weight.
1. Each machine is manufactured by experienced professional staff.
2. The production process is strictly monitored, and the Chinese and world-class production techniques are adopted.
3. The warranty period is one year. Does not include wearing parts.
4. After the expiration of the warranty period, a lifetime maintenance service will be provided.
Pre-sale service: 
1. We provide various forms of pre-sale services, carrying out investment budget, manufacturing, and planning, so that customers can make reasonable plans at a lower cost.
2. We will first check the customer's goods and the size of the goods, and then we will recommend a suitable packaging machine to be 100% suitable.
3. We will recommend and provide machines according to customers' use and purchase budget.
In-sale service: 
1. We will provide photos of each manufacturing step on time for customers to check.
2. We will prepare packaging and delivery in advance according to the needs of customers.
3. Test the machine and make videos for customers to check.
After-sales service:
1. We will guarantee the quality of the machine for 1 year.
2. We provide free training to answer customers' technical questions in a timely manner.
---
Previous:
Dough Divider and Rounder YQ-603
---
Products Categories